Connect | Grow | Advance
Business Whanganui is the leading independent business association in the Whanganui region, and an Accredited Member of the New Zealand Chambers of Commerce network. We champion the interests of Whanganui business, ensuring your voice is represented locally, regionally, and nationally. We provide support, learning, networking and promotional opportunities for business of all sizes, ages, and stages, and help you to connect, grow and advance your business. 
Our community is vital, energetic, creative, connected, and well informed. Join us today!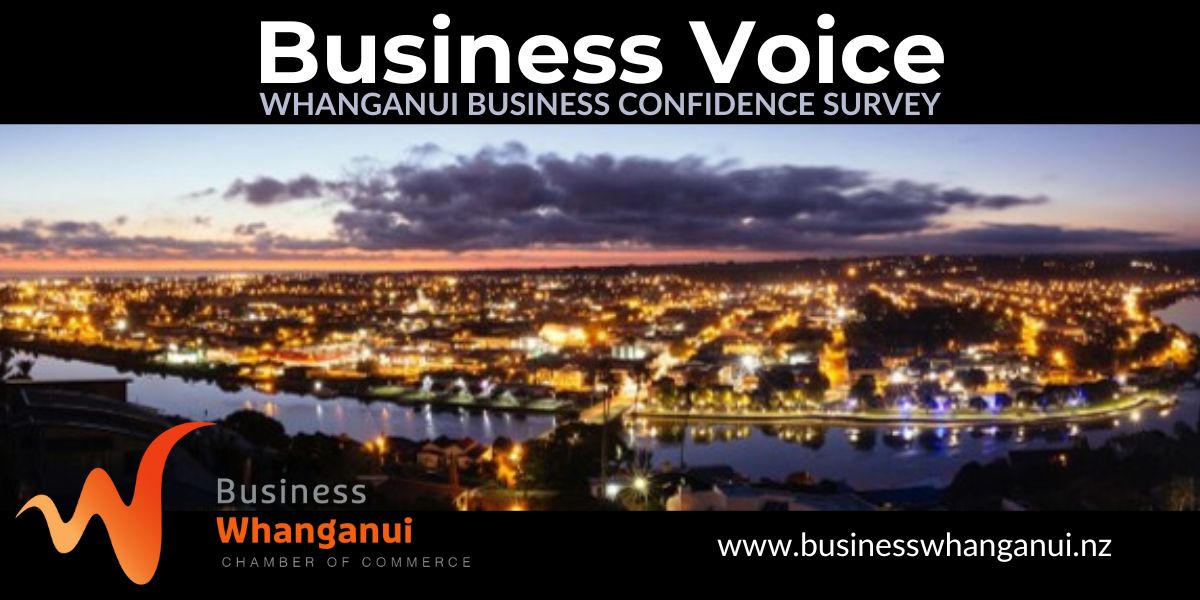 WHANGANUI BUSINESS CONFIDENCE SURVEY LET YOUR VOICE BE HEARD
Calling all Leaders, Owners, Operators, and Managers of Whanganui Businesses, Charities, and Incorporated Societies, let your voice be heard!
We invite you to participate in this quick 3-minute survey to share your perspectives, concerns, and expectations for business over the next 3-12 months. While membership has its benefits, you don't have to be a member to participate and all responses are anonymous.
This biannual (6-monthly) survey offers a unique opportunity to help us all better understand the economic landscape in our region, to undertake a 6-monthly "Health Check" of Whanganui business, and to identify growth opportunities and challenges. Each response adds to our understanding of our business dynamics, informing decisions at regional and national levels, shaping policies, and supporting industries. It's also a resource for you and other business owners to adapt your strategies to fit with the current economic climate.
Your active involvement positions you as a vital contributor to shaping our business landscape, ensuring your ideas are at the heart of a thriving business community. Your input is invaluable, and together, we can work toward growth, innovation, and a prosperous business environment in Whanganui.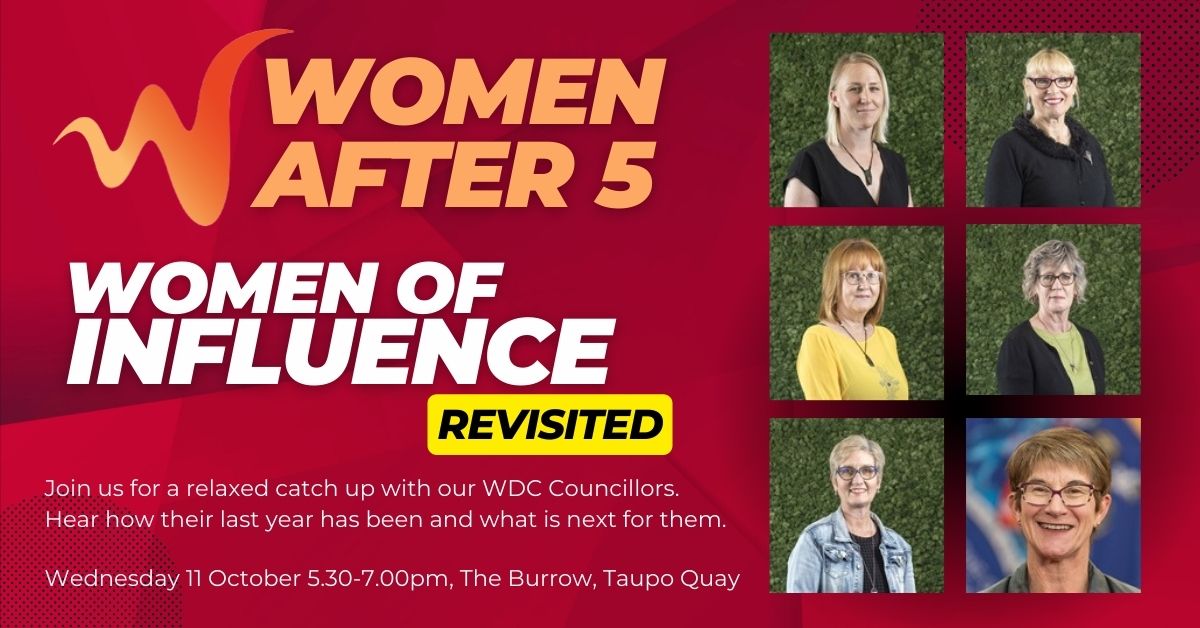 Women After 5
Women of Influence Revisited
5.30-7.00pm Wed 11 Oct
Women After 5 are small-group women-led gatherings held at The Burrow. Each event features a guest speaker woman leader from business, government and community.
We also run Business for Breakfast events covering a broad range of business focused topics that combine networking, knowledge building, good food, great company, and interesting speakers.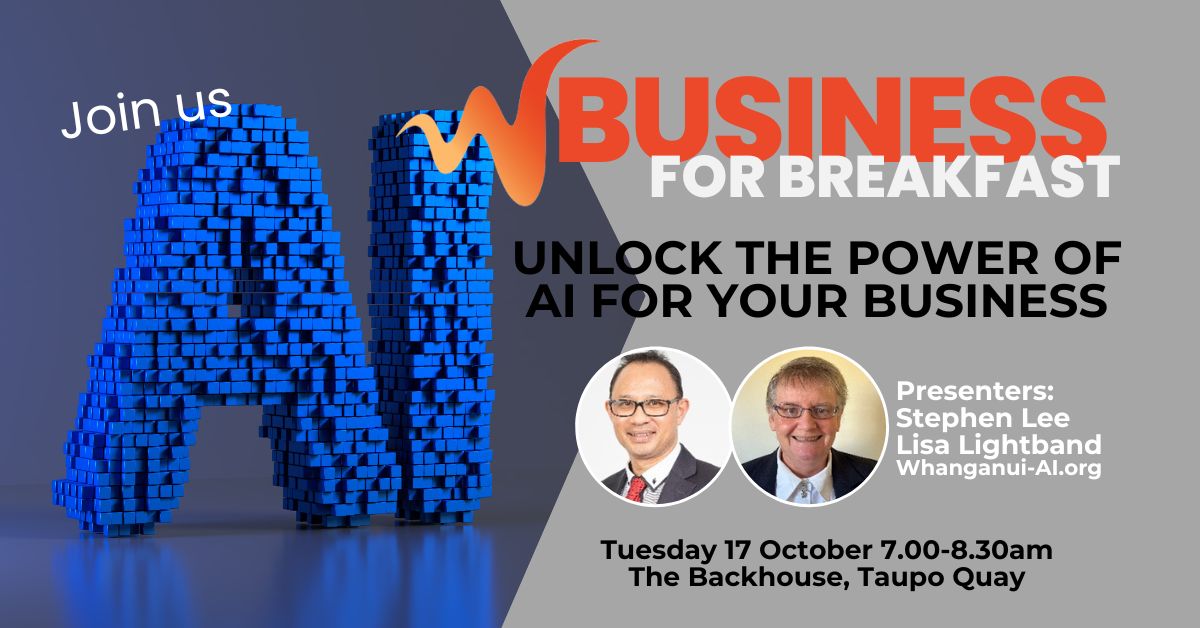 Breakfast
Unlock the Power of AI
7.00-8.30am Tue 17 Oct
Business for Breakfast events combine our favourite past-times of learning, networking and eating.
Putting aside the robots taking over the world sentiment for a moment, join us to learn about what AI actually is, and what it means for you and your business. Presented by the newly established Whanganui AI Group.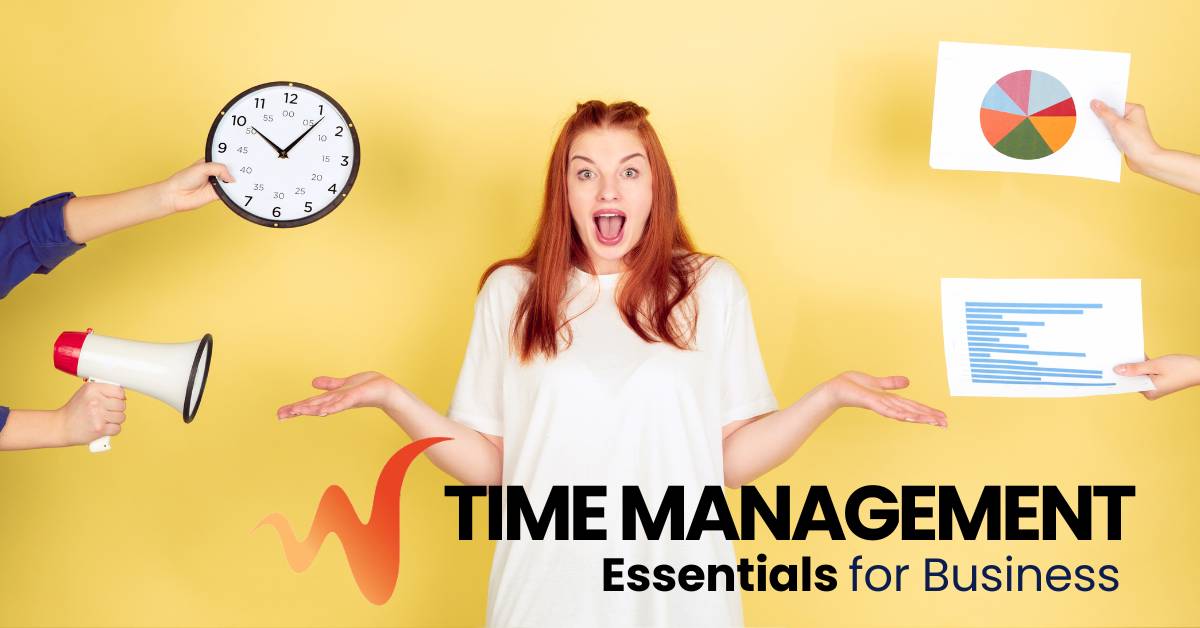 Productivity
Essential Time Management
8.30am-12.00pm Wed 18 Oct
If you want to understand where your time goes using tracking and analysis techniques, identify and develop strategies for your biggest time management challenges, learn an effective method for evaluating, setting, and managing your priorities, and know how to set a fail-proof schedule to manage your workday, then this workshop is for you.
Business After 5
An evening to remember…
5.30-7.00pm Thurs 26 Oct
Business After 5 events (BA5) showcase local businesses, and provide a forum for members to network and make valuable business connections.
Join our October BA5 for something a little bit out of the ordinary. Save the date, details coming soon.
Not a member? You can still sign up to receive regular e-comms and updates from us here.
Be part of the Business Whanganui Community
We facilitate a host of networking and learning events to help you to be more widely known, connected, informed, inspired, and more successful in your business.
From our biennial regional business awards, business for breakfast or lunch, and after 5 gatherings, factory tours, just-for-fun events, guest speakers, and learning sessions, to our Board Korero and special interest group coffee meetups, we're sure you'll find something to interest you.
You can also raise awareness of your business, products, services, and the value you deliver to your customers by hosting a Business Whanganui networking event. If your business is on the smaller side that's no problem as you can join with other small businesses for one of our Business Showcase events.
It's said that "It's not just who you know in business, it's who knows you." Contact us to find out more.
Thanks to our Partners & Sponsors